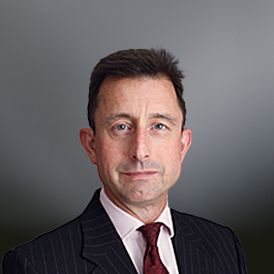 Matt Parr
Her Majesty's Inspector of Constabulary
,
HMICFRS
Matt Parr joined the Royal Navy straight from Durham University. A submariner by specialisation, he has also commanded above the waves and ashore.
Much of his career was spent at sea; but among his shore appointments, he was responsible for the Navy's inspection regime and also led a Ministry of Defence-wide team conducting studies for ministers. As a Rear-Admiral he was a member of the Navy Board. He was head of the Submarine Service and was the Navy's Director of Operations. He was appointed a Companion of the Order of the Bath in 2013.
Brought up in London, he now lives in the West Country but is responsible for the forces based in the capital, the national special forces and those in Crown Dependencies and Overseas Territories.
Matt Parr was appointed as HM Inspector of Constabulary in August 2016 and HM Inspector of Fire & Rescue Services in July 2017 when our remit was extended to include those services.
National role
Matt is responsible for the following of HMICFRS's national functions: Counter-terrorism
Regional role for police forces
Matt Parr is Her Majesty's Inspector of the Constabulary for the London and National Regions and deals with the following police forces:
Bedfordshire Police
Metropolitan Police Service
City of London Police
British Transport Police
National Crime Agency (NCA)
HM Revenue and Customs (HMRC)
Civil Nuclear Constabulary
Ministry of Defence Police and Guarding Agency
Guernsey Police
PSNI
Royal Gibraltar Police
State of Jersey Police
Isle of Man Constabulary
Other forces by invitation.

Matt is temporarily covering:
Cumbria Constabulary
Humberside Police
Lancashire Constabulary
Merseyside Police
Northumbria Police
North Yorkshire Police
South Yorkshire Police
West Yorkshire Police

Matt Parr is Her Majesty's Inspector of the Fire & Rescue Services for the London and South Central Region and deals with the following fire & rescue services:
Buckinghamshire Fire and Rescue Service
Hampshire Fire and Rescue Service
Isle of Wight Fire and Rescue Service
London Fire Brigade
Oxfordshire Fire and Rescue Service
Royal Berkshire Fire and Rescue Service
East Sussex Fire and Rescue Service
Surrey Fire and Rescue Service
West Sussex Fire and Rescue Service
Matt is temporarily covering:
Cumbria Fire and Rescue Service
Humberside Fire and Rescue Service
Lancashire Fire and Rescue Service
Merseyside Fire and Rescue Service
Northumberland Fire and Rescue Service
North Yorkshire Fire and Rescue Service
South Yorkshire Fire and Rescue Service
Tyne and Wear Fire and Rescue Service
West Yorkshire Fire and Rescue Service