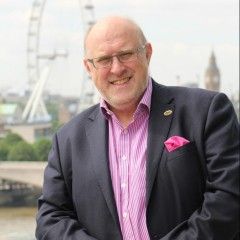 Mike Hurst
Director
,
International Foundation for Protection Officers UK & Ireland
Mike Hurst CPP CPOI

Mike has worked in security and fire since 1988. He has worked in business development and general management, and, since 1992, in executive security recruitment and consultancy with HJA Consult.

As Director of the International Foundation for Protection Officers (IFPO) in the UK and Ireland Mike has, with the support of an Advisory Board, championed education and career pathway opportunities for frontline security officers and highlighting Mental Health and Wellbeing challenges.

He holds the top-level security certifications from both ASIS International and the IFPO.

Other industry contributions include
Joint Vice Chair/Acting Chair of ASIS International UK (2010 – 2020)
Secretary of the ASIS international Extremism and Political Instability Community (EPIC)
Board Director at the Security Institute (2011 - 2017)
Board Member, the UK Security Commonwealth,
Ambassador for veterans' mental health charity PTSD Resolution charity
Member, BSI GW/3 Committee.