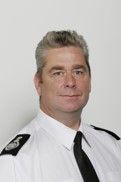 Phil Loach
Chief Fire Officer
,
West Midlands Fire & Rescue Service
Phil provides the professional and strategic leadership of West Midlands Fire Service. As Chief Fire Officer, he is ultimately responsible for the day-to-day running of the service, and the delivery of our Plan to make the West Midlands safer, stronger and healthier.
He leads on developing local, regional, and national relationships with partners and stakeholders, and acting as the public face of the service to our communities. He is also the programme executive for the Community Risk Programme on behalf of the National Fire Chiefs Council.